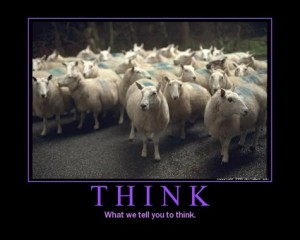 Can you pick yourself out of the photo?
America, while you slept, your country was stolen from you. Your country was absconded by all the political misfits and corporate criminals that the disenfranchised former Republicans and Democrats have been trying to warn you about during the last several years.
How Did We Get Here?
Laws, originating out of New Deal legislation, written in response to the Great Depression, provided some measure of protection for the American financial system from the unsavory forces which led to its initial demise in 1929. In 2008, corporate greed, governmental sheep-think-300x240corruption and a populace who was asleep at the wheel, has succeeded in achieving what historians will someday label the "Greatest Depression of 2013-2014." History will also show that the destruction of the late, great American economy was entirely self-inflicted.
Why the US Economy Is Irreversibly Damaged
If Americans knew their history, then we would be cognizant of the fact that one of the prime causes of the Great Depression was due to stock investors buying shares on margin (i.e., loans). Glass Steagall Act protected Americans from this shady practice by separating commercial banking from this investment practice of stockbrokers. However, with one stroke of his New World Order pen, Bill Clinton's repeal of the Glass-Steagall Act opened the flood gates for the domestic AND foreign infusion of bad credit into both our stock market and banking system. Consequently, both industries stand in the midst of a total and complete economic collapse n what is quickly becoming known as the most massive wealth transfer in world history.
On September 30, 1999 , Fannie Mae and Freddie Mac sought governmental permission to "relax" (i.e., break) the prudent governmental regulations on sound lending practices and begin to make loans to individuals who were not credit worthy. This spelled the death of the mortgage industry as we once knew it and the housing market was collapsed.
The Uptick Rule once prevented companies from crashing due to large scale shorting of company stock. A company's stock could not be sold short as long as it was in continuous decline. Short sellers had to wait for an uptick in the stock before engaging in shorting. The Uptick Rule was retired in 2007 and the rest, as they say, is history. The elimination of the Uptick Rule is like going to a basketball game and not being able to see the scoreboard. Who's ahead, who's behind? Nobody knows but "Ladies and Gentlemen, place your bets!" What is your stock portfolio worth? Who knows? Who cares? Somebody wealthy is getting wealthier at your expense and you and your middle class investors are none the wiser.