by Wolf Richter • Jul 12, 2019
How out-of-whack is the discrepancy in growth between incomes, rents, and house prices?
"Where the American Dream Goes to Die": Changes in House Prices, Rents, and Incomes since 1960 by Region & Metro
by Wolf Richter • Jul 12, 2019 • 131 Comments • Email to a friend
How out-of-whack is the discrepancy in growth between incomes, rents, and house prices?
The "San Francisco Housing Crisis," as it's called on a daily basis, is an extreme. But housing costs in major urban areas in the US have been eating up more and more of household incomes, as house prices and rents have soared and as incomes have crept up painfully slowly. In many cities, not just San Francisco, this condition is now called a "housing crisis" where families with median incomes can no longer afford to rent or buy adequate housing, or where too much of their income is spent on housing, with not enough left over for other things. They have no savings, they barely make it to the next paycheck, and they can't help the local economy because housing saps their spending power.
Just how out-of-whack this discrepancy between income versus rents and house prices has become over the years is depicted in a new study with long-term charts, released by the research department of Clever Real Estate. Based on Census data going back to 1960 for median household incomes, median gross rents per month, and median house prices, all adjusted for inflation, it shows that nationally, incomes since 1960 have risen just 29%, while rents have risen 72%, and house prices have soared 121%: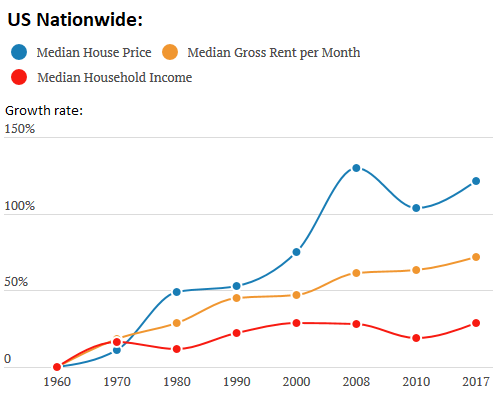 But the national values above reflect everything thrown into one bucket, from the more affordable areas to the biggest housing bubbles. So we will separate them out by region and metro – and there are stunning differences.
All values in the charts are indexed to 1960. The charts only include data for the depicted years: 1960, 1970, 1980, 1990, 2000, 2008, 2010, and 2017. The data for the years in between those years are not included. For example, if in one metro, the housing bust bottomed out in 2012, the low point falls between the data points of 2010 and 2017 and is not depicted. But you get the idea.
The West: house prices & rents v. household incomes.
In the West — a vast diverse region that spans Alaska, Arizona, California, Colorado, Hawaii, Montana, New Mexico, Oregon, Utah, Washington, and Wyoming — the median house price, adjusted for inflation, soared 195% since 1960. And rents, adjusted for inflation rose 72%. But household incomes adjusted for inflation ticked up only 26%.
The growth rate (vertical axis) is on a different scale in the charts. For example at the chart above it tops out at 150% growth from 1960; in the chart below, it tops out at 200% growth from 1960; in one chart further down, it tops out at 550% (yup, San Francisco):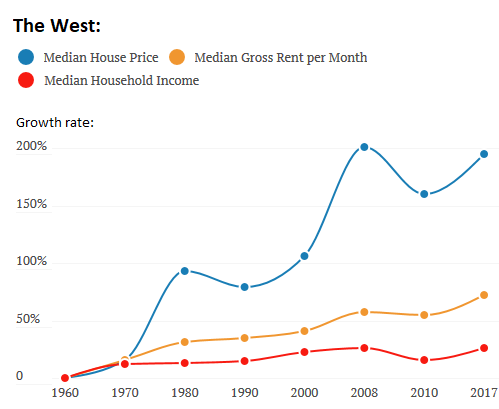 To dissect the changes in house prices and incomes in the West, the study by Clever Real Estate separates out different metro areas. For example, in Seattle and Denver, household incomes, adjusted for inflation, rose in near-lockstep 56% since 1960, while house prices in Denver soared 239%, and in Seattle 286%: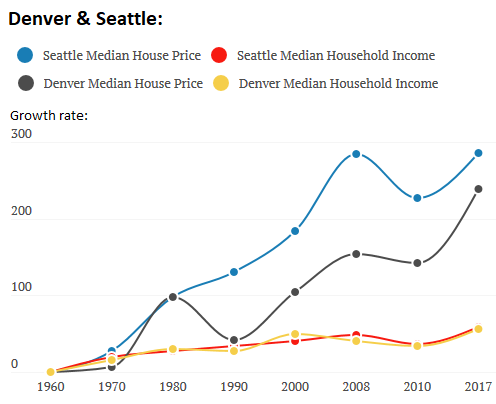 The Rest Of The Story Below:
"Where the American Dream Goes to Die": Changes in House Prices, Rents, and Incomes since 1960 by Region & Metro