Will Dollar Collapse While Wall Street Buys BILLIONS in Real Estate?
Derivatives BUBBLE Will Cause Global Economic COLLAPSE!
Will Dollar Collapse While Wall Street Buys BILLIONS in Real Estate?
The Stealing of America by the Cops, the Courts, the Corporations and Congress
By John W. Whitehead The Rutherford Institute July 22, 2014
Call it what you will—taxes, penalties, fees or fines—but the only word that truly describes the constant bilking of the American taxpayer by the government and its corporate partners is theft.
We're operating in a topsy-turvy Sherwood Forest where instead of Robin Hood and his merry band of thieves stealing from the rich to feed the poor, you've got the government and its merry band of corporate thieves stealing from the poor to fatten the wallets of the rich. In this way, the poor get poorer and the rich get richer. All the while, the American Dream of peace, prosperity, and liberty has turned into a nightmare of endless wars, debilitating debt, and outright tyranny.
What Americans don't seem to comprehend is if the government can arbitrarily take away your property, you have no rights.
In this way, the police state with all of its trappings—from surveillance cameras, militarized police, SWAT team raids, truancy and zero tolerance policies, asset forfeiture laws, privatized prisons and red light cameras to Sting Ray guns, fusion centers, drones, black boxes, hollow-point bullets, detention centers, speed traps and abundance of laws criminalizing otherwise legitimate conduct—is little more than a front for a high-dollar operation aimed at laundering as much money as possible through government agencies and into the bank accounts of corporations.
Indeed, as I point out in my book A Government of Wolves: The Emerging American Police State, the real motivating factor behind erecting a police state is not to protect the people, but to further enrich the powerful.
Consider the following costly line items, all part of the government's so-called quest to keep us safe and fight terrorism while entrenching the police state, enriching the elite, and further shredding our constitutional rights:
$34 billion for police departments to add to their arsenals of weapons and equipment. Police departments across the country "have received tens of thousands of machine guns; nearly 200,000 ammunition magazines; thousands of pieces of camouflage and night-vision equipment; and hundreds of silencers, armored cars and aircraft." The result: increased use of SWAT teams for routine tasks.
$6 billion in assets seized by the federal government in one year alone. This civil asset forfeiture scheme operates on the legal theory that one's property can not only be guilty of a crime but is also guilty until proven innocent. Whether or not any crime is proven to have taken place, police seize and keep private property they "suspect" may be connected to criminal activity.
$3.8 billion requested by the Obama administration to build additional detention camps and add border patrol agents to the southern border. Border Patrol agents are already allowed to search people's homes, intimately probe their bodies, and rifle through their belongings, all without a warrant.
Real American Hustle: Financial Homicide Of Millions Happening Right Now!
Monday, July 21, 2014 By Home Owner of Record
OUR COUNTRY IS IN ITS FINAL HOURS AND WE ARE LOSING ALL WE HAVE EVER WORKED FOR ALMOST OVERNIGHT!
IF YOUR DEBT FREE AND THINK YOU ARE IN THE CLEAR THINK AGAIN!
WE ARE ALL BEING RIPPED OFF BEYOND MEASURE BY THE REAL AMERICAN HUSTLE!
TAKE A MOMENT – PREPARE TO HAVE YOUR EYES OPENED. DON'T LET THESE THIEVES ROB YOU IN THEIR BIG GAME.
A FEW MINUTES COULD SAVE YOU YEARS OF GRIEF.
DISCOVER HERE: "HOW THINGS WORK"… ACCORDING TO OUR ILLEGAL COURTS WE DON'T ACTUALLY OWN ANYTHING!
(( NOT EVEN OUR OWN CHILDREN )) JUST ASK THE VICTIMS OF JERRY SANDUSKY OR "KIDS FOR CASH"!
IN THEIR AGENDA-21 NIGHTMARE EVERYTHING WE HAVE BELONGS TO THE STATE. ALL THEY HAVE TO DO IS CLAIM IT IN ANY COURT. THEY IGNORE FACTS, LAW AND RULE AGAINST YOU!
ACCORDING TO REALTY TRAC THERE ARE 14.2 MILLION VACANT HOMES. BIG BANKS GOT WRITE-OFFS AND ALSO COLLECTED INSURANCE. 14.2 MILLION FAMILIES JUST GOT THE SHAFT IN BIAS COURTS. COURTS MADE MILLIONS ON FEES AND SHERIFF SALES. LAW ENFORCEMENT WAS FORCED TO SERVE THEM. A CORRUPT JUDICIAL SYSTEM DEMANDED IT ALL!
READ ON: I WILL PROVE THEY DO IT FOR FUN & PROFIT! THEY ACTUALLY SEEM TO ENJOY HURTING CITIZENS.
THIS WRITER HAD TWO JUDGES MAKE FUN OF IT!
LETS TURN THE TABLES ON THESE CROOKS!PASS THIS STORY ON BY RE-POSTING ALL OR PORTIONS. THIS IS WHERE SOCIAL MEDIA CAN MAKE A DIFFERENCE! ASK YOURSELF…WHY ARE TENT CITIES POPPING UP ALL ACROSS AMERICA?
GOVERNMENT CORRUPTION…COURTS STEALING HOMES TO INCREASE THEIR OWN STATE PENSION PLANS. PLEASE UNDERSTAND…
ALL COUNTY COURTS ARE UNDER DIRECT CONTROL OF THE STATE. THEY ARE… TRANSFERRING HOMES AND OUR ASSETS INTO STATE GOVERNMENT PENSION PLANS. FACILITATED BY… ILLEGAL PROCEEDINGS WITH NO DUE PROCESS, NO FAIR TRIAL AND NO CIVIL RIGHTS IN FACT IF YOU ARE WINNING – THEY WILL DENY YOUR TRIAL & JUST ROB YOU!
THAT HAPPENED IN MY CASE – TRIAL CANCELLED WITHOUT NOTICE.JUDGE VIOLATED RIGHTS & PROCESS FOR SUMMARY JUDGMENT.CLAIMING BOLDLY I DID NOT KNOW HOW THINGS WORK. IN ACTUALITY I DID KNOW HOW THINGS WORK:THIS JUDGE COMMITTED VIOLATIONS OF LAW INCLUDING… A FEDERAL CRIME: "DEPRIVATION OF RIGHTS UNDER COLOR OF LAW"
DON'T BELIEVE IT…LOOK UP: TITLE "18 USC sec 242″
Why This Economic Emergency Will Cause RIOTS & CIVIL UNREST!
"The U.S. economy has been on life support, graciously provided by Central Planners. However hard they try, they will soon realize that no amount of money printing can cleanse the rot of the U.S. economy."
The problem since the global financial and economic crisis has exacerbated massively. "In the first three years of crisis, inequality increased more than in the twelve years before."
Marc Faber is sounding warning bell. "By creating their own multilateral financial institutions, the BRICS emerging-market powers are shaking up global economic governance but remain far from dismantling the post-war system dominated by the West. The International Monetary Fund and the World Bank have been the pillars of the world's economic system."
PROOF THAT THE U.S. FINANCIAL SYSTEM IS A CRIMINAL ENTERPRISE OPERATION
20 Jul, 2014 by Dave Hodges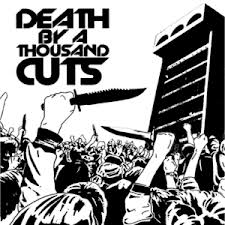 What was revealed in the previous article should shake the confidence that the public has in the DEA and the federal government as a whole. My DEA insider has revealed that there is massive, unchecked banking fraud and money laundering occurring within our financial institutions. Our banks are run like a Mafia protection racket. If you doubt the accuracy of this statement, ask yourself why are we witnessing a massive kill off of banking officials from the nation's largest banks? The answer is simple, dead men tell no tales.
The following is not entertainment reading. This is a systematic report which details certain DEA operations and it is the story of how justice is muted when it comes to drug trafficking. There is complicity in these illegal enterprises from official government and corporate entities, particularly the banks. If being amused is the goal of your reading, today, you might want to skip over this article. However, if you truly desire to begin to get an idea of how things work, then you will not be disappointed.
Before revealing the partial extent that money fraud has been revealed to me, let's review the major facts as ascertained by my DEA informant.
1. The SANCHEZ-Paredes drug cartel provides the bulk of drugs to the Sinaloa cartel.
2. The SANCHEZ-Paredes cartel is protected by the American trained Peruvian military and has strong ties to Hamas, an international terrorist organization.
3. The last three DEA special agents who attempted to investigate the SANCHEZ-Paredes were fired by DEA station director, Patrick Stenkamp. The leaders of the SANCHEZ-Paredes cartel travel freely to the United States and own homes in the country. This would require the State Department and the DEA "to look the other way".
4. In Chicago district court testimony, it was revealed that the Sinaloa cartel struck a deal with the DEA to provide intelligence on other cartel drug shipments in exchange for a guarantee for shipping in 80% of its drugs to the United States without interference. As outrageous as this claim was, the validation of this fact did not require the revelation of an informant. The media coverage of this event is overwhelming, even if it was mostly ignored by the MSM. Defenders of the deal say that this is the cost of catching most of the drug dealers and drug shipments. Skeptics see the DEA as being involved in protecting the drug shipments of the elite from competition.
This installment reveals, to some extent, the existence of an elaborate money laundering scheme which must exist in order to legitimize the drug profits.
Before presenting the money laundering schemes, let's first take a look at banking laws that the average American citizen must follow.
WHO IS THE UNSUNG HERO OF THE $7 BILLION CITIGROUP SETTLEMENT?
WARNING! BIS Warns of Financial Crash Worse than 2008
PM FUND MANAGER WARNS OF DERIVATIVES MELTDOWN & "OPEN SEASON" ON YOUR BANK ACCOUNT
Investmentwatchblog.com
July 14th, 2014
In the MUST WATCH video below, PM Fund Manager Dave Kranzler explains the colossal size of the derivatives market and the heads-Wall Street-wins / tails-Main Street-loses nature of this painstakingly rigged casino.
Do you think derivatives are unregulated? They are–until a series of bets goes bad and starts toppling a bank, at which point rules materialize out of nowhere and meticulously provide for the looting of your checking and savings accounts to pay off the bad bets made by your bank.
When (not if) the derivatives chain of dominoes starts to teeter, it's going to be Open Season on your bank accounts. Say, what interest rate is your bank paying you to take on such a huge risk, anyhow?