Judge Jeanine Pirro Opening Statement – Dirty Harry (Harry Reid) & BLM Land Grab
Eminent Domain: Colorado Couple Finds Out Their Land Is Only Theirs Until The Government Wants It
Daisy Luther
Activist Post
Imagine this:
You do your research and you choose a retreat property far off the beaten path. You spend time and money developing it, making it your own. Maybe it is a vacation home, or maybe you're a prepper and this is your bug-out location. Regardless of the reason you chose it, it's yours, so maybe you plant some perennial vegetables and some fruit trees. You dig a well or locate a spring. You make it your own.
Then the government comes along and says, "Nope, we want this land – you're out."
And they just take it, evicting you like they are the landlord and you are merely a tenant, despite your name on the deed.
That's exactly what happened to a couple in Colorado. Andy and Ceil Barrie fought the government and the government won.
The Barries had purchased an idyllic 10-acre parcel of land in the midst of the White River National Forest. The private land had on it a rustic cabin, an outhouse, and an old boarded-up gold mine. It was a day use cabin, and therefore totally off the grid. No electricity, no plumbing – just peace and solitude, accessible only by an ATV via a road that Summit County didn't even know existed. The cabin is 1.2 miles off the main road. From a preparedness standpoint, the place is what most of us dream of – a sweet little piece of paradise far off the beaten path, without a powerline in sight.
The government used many different bizarre strategies to get the Barries off of their land. Pay close attention, because precedents are being set that could affect hunters or those creating bug-out retreats.
#1 ATV access threatened an endangered species
The government's first line of attack against the Barries was forbidding them to use a motorized vehicle to reach the property. This will sound familiar to anyone who has been following the Cliven Bundy case in Nevada: Summit "county officials issued a report that stated 'public motorized access' to the property threatened the alpine tundra and the habitat for the lynx, an endangered species." (source) County officials took a vote in October of 2013, and in order to save the lynx threatened by the Barries' occasional access, agreed that their property should be seized. (In the case of the Bundy ranch, his cattle were massacred by the government while they claimed to be concerned about the fate of the desert tortoise.)
#2 The county demanded that "various commercial activities" be halted
And exactly what nefarious money-making schemes were the Barries up to? Why, Andy Barrie had the audacity to gather up fallen pine cones and take them home for his Christmas wreath-making business. He used a cart attached to the aforementioned ATV to take them back to his home, where the wreaths were created.
#3 The county condemned the cabin because of electrical and plumbing issues
Umm…it's an off-grid cabin, so there was no electricity and no plumbing to start with. In their haste to protect the environment, one would think that bringing in electricity or plumbing would be far more of an issue than a low-carbon-footprint place that used no public utilities.This was strictly a day-use cabin, thus requiring no plumbing or power. How many off-grid homes that adjoin national land exist across the country right now? How many hunting and trapping cabins are snugly sitting out there in the wilderness? Are all of those properties next on the government's list of properties to steal?
#4 The cabin was in violation of zoning laws
A previous owner had expanded the cabin without a permit. Because we have to ask the government's permission for everything, you see.
In the end, the government won.
On Thursday, the Barries had no option but to cede the land. The government paid them $115,000 for it. They had spent $75,000 waging a legal defense. Ceil Barrie said in a statement:
The cabin was condemned on the grounds of plumbing and electricity, when it doesn't even have plumbing or electricity. All those things added up in my mind. This is ridiculous, we can never win and our money is not unlimited. I have two kids in college this year. To me, what just came out of it is, you can't fight the government. (source)
The moral to this story is, the government does not support the lifestyle to which many of us aspire. Self sufficiency and freedom from the grid are not celebrated, but demonized. The government, through various agencies masquerading as do-gooders, have waged war on woodstoves, off-grid lifestyles, front yard vegetable gardens, and anything that might allow you to live without their daily input or without being subject to their many taxes and fees.
Private property rights are ignored and, according to the government, we must all submit to their "eminent domain". What it boils down to: You might think you own something, but it's clear that it is only yours until the government decides that they want it.
Exactly Like 7 Years Ago? 2014 Is Turning Out To Be Eerily Similar To 2007

By Michael Snyder, on April 23rd, 2014
Bubble – Photo by Jeff Kubina The similarities between 2007 and 2014 continue to pile up. As you are about to see, U.S. home sales fell dramatically throughout 2007 even as the mainstream media, our politicians and Federal Reserve Chairman Ben Bernanke promised us that everything was going to be just fine and that we definitely were not going to experience a recession. Of course we remember precisely what followed. It was the worst economic crisis since the days of the Great Depression. And you know what they say – if we do not learn from history we are doomed to repeat it. Just like seven years ago, the stock market has soared to all-time high after all-time high. Just like seven years ago, the authorities are telling us that there is nothing to worry about. Unfortunately, just like seven years ago, a housing bubble is imploding and another great economic crisis is rapidly approaching.
Posted below is a chart of existing home sales in the United States during 2007. As you can see, existing home sales declined precipitously throughout the year…


Now look at this chart which shows what has happened to existing home sales in the United States in recent months. If you compare the two charts, you will see that the numbers are eerily similar…

CLOWARD-PIVEN: 18 Stats That Prove That Government Dependence Has Reached Epidemic Levels
Guest post by Michael Snyder
Did you know that the number of Americans getting benefits from the federal government each month exceeds the number of full-time workers in the private sector by more than 60 million? In other words, the number of people that are taking money out of the system is far greater than the number of people that are putting money into the system. And did you know that nearly 70 percent of all of the money that the federal government spends goes toward entitlement and welfare programs? When it comes to the transfer of wealth, nobody does it on a grander scale than the U.S. government. Most of what the government does involves taking money from some people and giving it to other people. In fact, at this point that is the primary function of the federal government.
Just check out the chart below. It comes from the Heritage Foundation, and it shows that 69 percent of all federal money is spent either on entitlements or on welfare programs…

So when people tell you that the main reason why we are being taxed into oblivion is so that we can "build roads" and provide "public services", they are lying to you. The main reason why the government taxes you so much is so that they can take your money and give it to someone else.
We have become a nation that is completely and totally addicted to government money. The following are 18 stats that prove that government dependence has reached epidemic levels…
The Rest Here
IRS: The Next Bundy Ranch Standoff
Foreclosed Homeowner Beats Big Bank; Judge Voids Sale of Man's Home
By Ronald L. Ray —
In the ongoing "war for plutocracy," by which the Rothschild dynasty of financial pharaohs and the weasels of Wall Street seek to separate the common people from their property, the debt-slavers normally count on the dutiful support of the courts when turning distressed homeowners into America's homeless. But Snohomish County, Washington Judge George N. Bowden showed both courage and character on January 30 when he voided the foreclosure sale of Jacob Bradburn's home by giant Bank of America (BOA).
In a sense, Bradburn's story is that of the American "Everyman." Following the 2008 economic collapse, caused by avaricious Big Banks, Bradburn fell upon hard times. He turned to his mortgage servicer for help in keeping his home, only to hear the advice given by seemingly every servicer and credit card company.
Because he was still current on his mortgage, he was told he had to "miss a payment" before he could qualify for refinancing. Like so many other debtors before him, Bradburn did so, but the conundrum of bank-induced consequences was such a "convoluted case in the minefield of mortgage foreclosure litigation," wrote Bowden, that even the legally trained judge's mind struggled with the muddle of facts.
Immediately after the missed payment, the BOA snake constricted around its prey. Bradburn was denied refinancing. A dispute arose over how much money he continued to owe on the house—not uncommon in the quicksand of additional interest andpenalties inflicted on delinquent homeowners, even when their delinquency was caused by a bank's demand. And in the midst of Bradburn's continuing efforts to seek assistance from the predatory lending institution, BOA foreclosed extrajudicially on his home and sold it out from under him. So much for helpful customer service.
The Rest Here
This Is How Empires Collapse
Submitted by Charles Hugh-Smith of OfTwoMinds blog,
This is how empires collapse: one complicit participant at a time.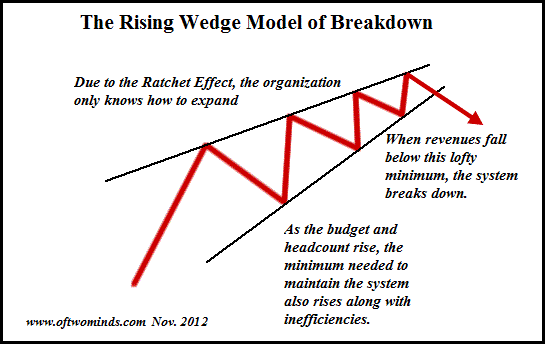 Before an empire collapses, it first erodes from within. The collapse may appear sudden, but the processes of internal rot hollowed out the resilience, resolve, purpose and vitality of the empire long before its final implosion.
What are these processes of internal rot? Here are a few of the most pervasive and destructive forces of internal corrosion:
1. Each institution within the system loses sight of its original purpose of serving the populace and becomes self-serving. This erosion of common purpose serving the common good is so gradual that participants forget there was a time when the focus wasn't on gaming the system to avoid work and accountability but serving the common good.
2. The corrupt Status Quo corrupts every individual who works within the system.Once an institution loses its original purpose and becomes self-serving, everyone within either seeks to maximize their own personal share of the swag and minimize their accountability, or they are forced out as a potentially dangerous uncorrupted insider.
The justification is always the same: everybody else is getting away with it, why shouldn't I? Empires decline one corruptible individual at a time.
3. Self-serving institutions select sociopathic leaders whose skills are not competency or leadership but conning others into believing the institution is functioning optimally when in reality it is faltering/failing.
The late Roman Empire offers a fine example: entire Army legions in the hinterlands were listed as full-strength on the official rolls in Rome and payroll was issued accordingly, but the legions only existed on paper: corrupt officials pocketed the payroll for phantom legions.
Self-serving institutions reward con-artists in leadership roles because only con-artists can mask the internal rot with happy-story PR and get away with it.
4. The institutional memory rewards conserving the existing Status Quo and punishes innovation. Innovation necessarily entails risk, and those busy feathering their own nests (i.e. accepting money for phantom work, phantom legions, etc.) have no desire to place their share of the swag at risk just to improve sagging output and accountability.
So reforms and innovations that might salvage the institution are shelved or buried.
5. As the sunk costs of the subsystems increase, the institutional resistance to new technologies and processes increases accordingly. Those manufacturing steam locomotives in the early 20th century had an enormous amount of capital and institutional knowledge sunk in their factories. Tossing all of that out to invest in building diesel-electric locomotives that were much more efficient than the old-tech steam locomotives made little sense to those looking at sunk costs.
As a result, the steam locomotive manufacturers clung to the old ways and went out of business. The sunk costs of empire are enormous, as is the internal resistance to change.
The Rest Here
The United States Debt Meltdown, And The Coming Dollar Collapse
The United States government and the Federal Reserve must keep interest rates near zero – because if they don't, there will be great difficulty in paying the interest on the debt they've accumulated, which could bring it all (the economy and our way of life) crashing down.

There's one problem though. The only way the United States can maintain their zero interest rate policies is for the world to continue accepting the dollar as the world's reserve currency. The thing is – they're not, and plans are nearly implemented to circumvent the United States dollar for major countries such as Russia and China (and others).
The carrot and the stick approach (by the United States) isn't working so well anymore. The carrot (the strength of the dollar) is becoming increasingly rotten and the stick (the willingness to use the military) has weakened considerably as Americans have grown war weary.
There's No More Gold
It is likely that there is little gold left in United States coffers to back up American debt. Technically the dollar is not backed by gold anyway (since Nixon in the '70s) but the gold for the most part is believed to have left the country while much of it has gone east to Asia and beyond while the FED and gold central banks have suppressed the dollar price of gold – while it is gobbled up in the world market (apparently other nations still value this ancient relic as real money) – [sarcasm]. The United States was recently only able to deliver a tiny fraction of Germany's gold after they requested (demanded) it – exemplifying the likelihood that there is barely any gold left on reserve. The FED refuses to audit their (supposed) gold.
The Rest Here
Is The US Military Preparing For The Collapse Of The Dollar?
It almost happened in 2008… but as this excerpt from Casey Research's Meltdown America documentary notes, it appears the US military is preparing for the potential collapse of the US dollar. As Scott Taylor warns, "…if the carrot (of credit worthiness) is fading, and the stick (of military threat) is weak, that empire is going to come down in a hurry…" which leaves a serial economic mis-manager only one option to 'secure' the empire.

To see what the consequences of economic mismanagement can be, and how stealthily disaster can creep up on you, watch the 30-minute documentary, Meltdown America. Witness the harrowing tales of three ordinary people who lived through a crisis, and how their experiences warn of the turmoil that could soon reach the US. Click Here To Watch It Now
The Bundy Paradigm: Will You Be a Rebel, Revolutionary or a Slave?
"Those who make peaceful revolution impossible will make violent revolution inevitable."—John F. Kennedy
John W. Whitehead
Activist Post
4-21-14
Those tempted to write off the standoff at the Bundy Ranch as little more than a show of force by militia-minded citizens would do well to reconsider their easy dismissal of this brewing rebellion. This goes far beyond concerns about grazing rights or the tension between the state and the federal government.
Few conflicts are ever black and white, and the Bundy situation, with its abundance of gray areas, is no exception. Yet the question is not whether Cliven Bundy and his supporters are domestic terrorists, as Harry Reid claims, or patriots, or something in between. Nor is it a question of whether the Nevada rancher is illegally grazing his cattle on federal land or whether that land should rightfully belong to the government. Nor is it even a question of who's winning the showdown— the government with its arsenal of SWAT teams, firepower and assault vehicles, or Bundy's militia supporters with their assortment of weapons—because if such altercations end in bloodshed, everyone loses.
What we're really faced with, and what we'll see more of before long, is a growing dissatisfaction with the government and its heavy-handed tactics by people who are tired of being used and abused and are ready to say "enough is enough." And it won't matter what the issue is—whether it's a rancher standing his ground over grazing rights, a minister jailed for holding a Bible study in his own home, or a community outraged over police shootings of unarmed citizens—these are the building blocks of a political powder keg. Now all that remains is a spark, and it need not be a very big one, to set the whole powder keg aflame.
As I show in my book A Government of Wolves: The Emerging American Police State, there's a subtext to this incident that must not be ignored, and it is simply this: America is a pressure cooker with no steam valve, and things are about to blow. This is what happens when a parasitical government muzzles the citizenry, fences them in, herds them, brands them, whips them into submission, forces them to ante up the sweat of their brows while giving them little in return, and then provides them with little to no outlet for voicing their discontent. The Rest Of The Story Here