By mybudget360.com Sept 25th, 2017
For the most part people widely misunderstand inflation.  It is a complicated topic.  If you ask the man and woman on the street they would respond that inflation is the price of goods going up.  This is true in some respect but what people see is merely the outcome of larger forces at work like monetary decisions made by the Federal Reserve.  Generally speaking central banks want to limit inflation (but have some) and avoid deflation.  Today we have seen purchasing power decrease because of the way we have allowed debt to infiltrate every aspect of our lives.  Items like homes, cars, and education are all largely funded by debt.  Let us see how things have changed since 1975 to 2017 by comparing the cost of living in this time span.
Examining the cost of living over time
As we examine some of these items we also notice that there is some disinflation going on.  For example, instead of selling five pound bags of sugar you now see four pound bags of sugar.  Or you will see smaller packaging with potato chips.  At least with foods, things have been relatively controlled.  Where we see the cost of living shooting up is with big ticket purchases.
First, let us look at a chart that has 1975 and 2015 costs: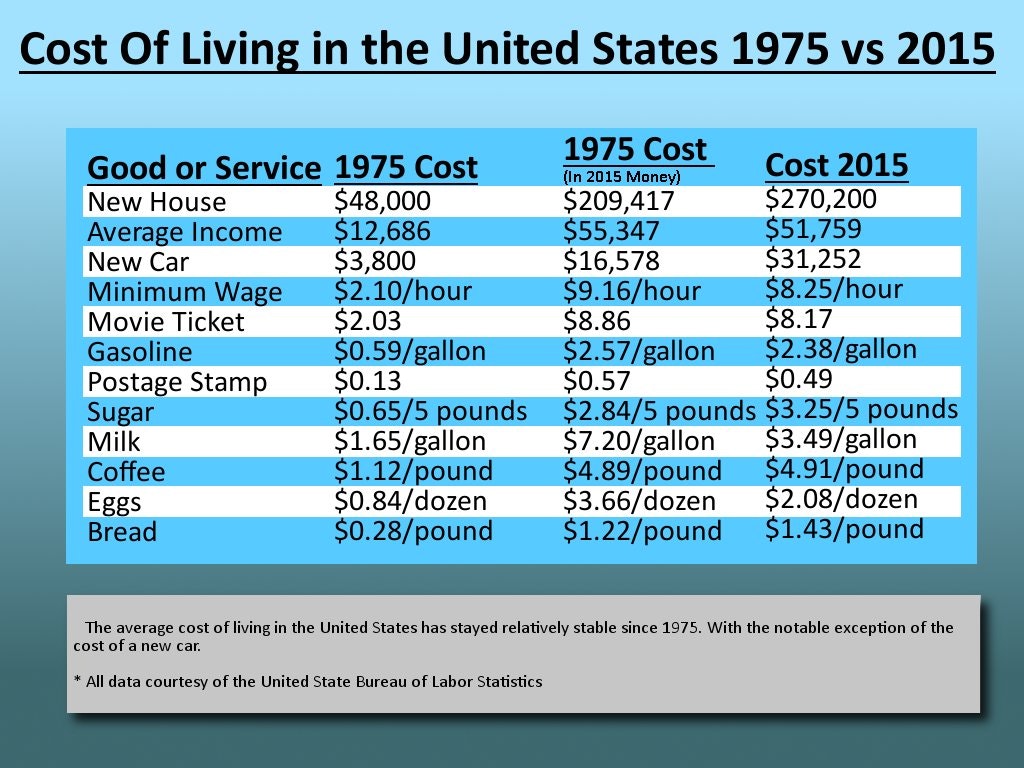 A few things should stand out to you.  The cost of a new home in 2015 was $270,200.  That 1975 home if we adjust for inflation should cost $209,417 in 2015.  That is a real increase of 29 percent.  But let us look at what a new home costs today among other items that I have updated from various sources:
A new home today now costs $313,700.  So in two years the cost of a new home went up 16 percent (or $43,500).  Now you tell me if you think the typical family saw their household income go up by that amount in the last two years?  It has not as the above chart highlights with overall household income remaining stagnant.
The cost of a new car has now gone up to $33,560 from $31,252 – an increase of $2,308 in two years.  This is why you have so many people going into subprime debt to finance their vehicles.  Income is stagnant while the cost of big ticket items is going up.  You might think that $2,308 isn't much but it is when you are not earning more.  So what do people do?  They go into more debt: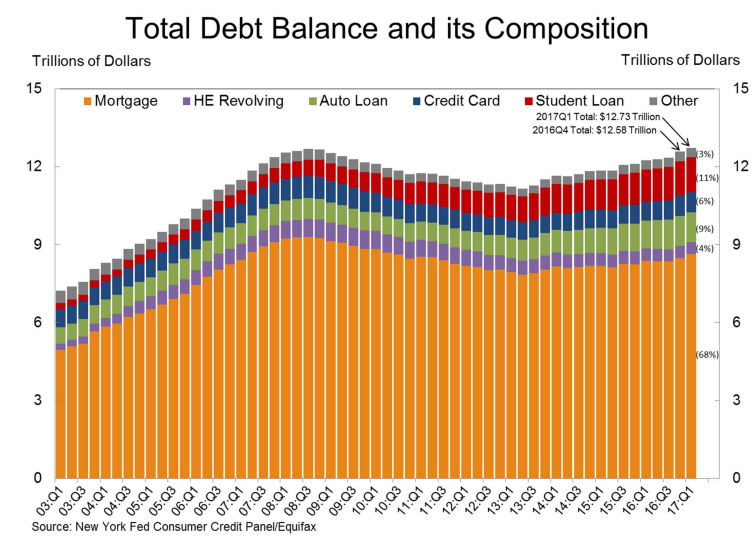 Total household debt is at a record level.  What is more troubling is that we now have three debt categories in the trillions – student debt ($1.4 trillion), auto debt ($1.1 trillion), and credit card debt ($1 trillion).  So people are going into big debt to purchase items while the cost of food remains stable.
But there is some disinflation in food as I had previously mentioned.  Take a look at sugar: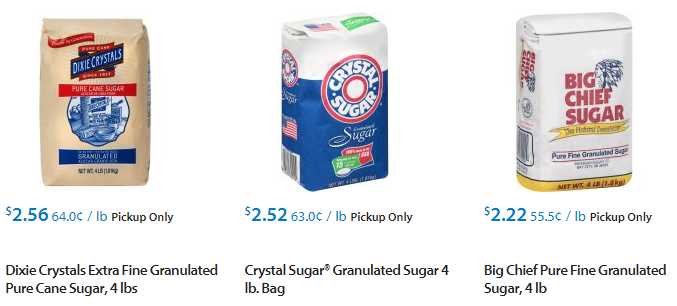 Notice something?  These are now four pound bags.  I'm sure most don't notice but the five pound bags slowly disappeared.  You see a lot of this occurring in grocery stores but most people don't pick up on this.  You also have dollar stores offering name brand products but in unique packaging that offers less for cash strapped consumers.
So what can we take away by looking at the cost of living in 2017 versus 1975 and 2015?  Big ticket items financed by debt continue to move up.  Household debt continues to move up as well to finance these purchases and to make up for stagnant income.  Does this story sound familiar?  It should because that is what led us into the last credit crisis.
Peter is a Real Estate Broker at Professional Brokers Group (License No. 023000), covering the greater Short Sale area of Colorado.
Phone: 720-299-7373
Email Us

Please fill out the contact form below if you wish for Peter to contact you.
[contact-form-7 404 "Not Found"]




Helping Short Sale Realtor home owners avoid foreclosure with a short sale.
Peter Janisch specializes in short sales in Short Sale Realtor. I am your
Short Sale Realtor Short Sale Specialist Realtor
and Short Sale Realtor loan modification and distressed property expert. This article and content is for general informational purposes and may not be accurate. This should not be taken as legal advice, technical or tax advice under any circumstance. Seek legal advise and representation in all legal matters.