"In retrospect, the spark might seem as ominous as a financial crash, as ordinary as a national election, or as trivial as a Tea Party. The catalyst will unfold according to a basic Crisis dynamic that underlies all of these scenarios: An initial spark will trigger a chain reaction of unyielding responses and further emergencies. The core elements of these scenarios (debt, civic decay, global disorder) will matter more than the details, which the catalyst will juxtapose and connect in some unknowable way. If foreign societies are also entering a Fourth Turning, this could accelerate the chain reaction. At home and abroad, these events will reflect the tearing of the civic fabric at points of extreme vulnerability –problem areas where America will have neglected, denied, or delayed needed action." – The Fourth Turning – Strauss & Howe – 1997
This past week saw an event revealing the cluelessness and ignorance of the linear thinking establishment. They are oblivious to the cyclicality of history and unaware of their precarious situation, as the mood of the country and the world portends their demise. Eric Cantor, the ultimate establishment neo-con Republican House Majority Leader, was crushed in a primary by a completely unknown economics professor, outspent by Cantor $4.9 million to $123,000. Cantor spent more at steakhouses than David Brat spent on his entire campaign. Cantor, a lackey for Blackstone, Goldman Sachs, Israel, and dozens of other mega-corporations, was the first House Majority leader defeated in a primary since the position was created in the 1890s. He won his last primary by 60%.
This was as big a shock to the Republican establishment as it was to the Democratic establishment, the mainstream corporate media establishment, and the Tea Party establishment that didn't provide David Brat one red cent of their vast horde of contributions. They are now scrambling to generate a storyline explaining this unexplainable development as if it was entirely predictable. These wealthy, myopic, propaganda peddling, purveyors of the status quo just felt the foundation of their world shudder beneath them. Like a volcano, with pressure building within, the world as we know it is about to blow. Who gets devastated by the massive explosion and flow of molten lava is yet to be determined, but there is nothing the establishment can do to stop the eruption. This entire Deep State hierarchy has been developed over decades, as they have flawlessly implemented Edward Bernays teachings from the Propaganda playbook.
"The conscious and intelligent manipulation of the organized habits and opinions of the masses is an important element in democratic society. Those who manipulate this unseen mechanism of society constitute an invisible government which is the true ruling power of our country. …We are governed, our minds are molded, our tastes formed, our ideas suggested, largely by men we have never heard of. This is a logical result of the way in which our democratic society is organized. Vast numbers of human beings must cooperate in this manner if they are to live together as a smoothly functioning society. …In almost every act of our daily lives, whether in the sphere of politics or business, in our social conduct or our ethical thinking, we are dominated by the relatively small number of persons…who understand the mental processes and social patterns of the masses. It is they who pull the wires which control the public mind." – Edward Bernays – Propaganda – 1928
The linear thinkers, who constitute the invisible government and unelected true ruling power, are flabbergasted their game plan, which has worked for the last seven decades, is failing to have the usual sway over the normally compliant masses. Lies, misinformation, deception, propaganda, easy debt, cheap oil, endless commercial expansion, relentless marketing, never ending war, politicians selected by bankers and mega-corporations, tax code created to benefit the .01%, and laws written by the lobbyists for the oligarchs designed to control the plebs and enrich the modern aristocracy, made the world go round until 2008. Linear thinkers in government, business, banking and media have been perpetuating the falsehood of a return to normalcy, recovery, and linear progress. They are willfully ignorant of history because acknowledging its cyclicality would be admitting how precarious their positions of power, wealth, and control truly are.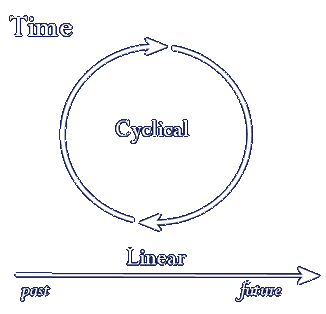 History does not proceed in a straight line of forward advancement. It has a seasonal nature geared to the 80 year life cycle of human beings. The most basic lesson of history is we never seem to learn the lessons of history. A period of Crisis arrives like Winter, approximately 60 years after the resolution of the prior Crisis, with a climax occurring approximately 80 years after the prior Crisis climax. The generational dynamics based upon human life cycles have lined up once again into Crisis mode. Anyone who hasn't sensed the mood change in the country since 2008, hasn't been paying attention. The linear thinking establishment refuses to accept the inevitability of their existing paradigm collapsing in a chaotic whirlwind of violence, death on a grand scale and decisive war. The existing social order is always swept away during a Fourth Turning.
Saeculum (climax year) Crisis (Full Era) Time from one Crisis climax to next Crisis climax
Revolutionary (1781) American Revolution(1773–1794)
Civil War (1863) Civil War(1860–1865) 82 years
Great Power (1944) Great Depressionand World War II(1929-1946) 81 years
Millennial (2025?) Global Financial Crisis(2008–2029?) 81 years?
The Global Financial Crisis, which began in September 2008, marked the beginning of a likely two decade long episode of fierce winter-like blizzard conditions that will get progressively worse as this Fourth Turning churns toward its bloody climax. The evil wealthy men and their paid off pawns in politics and the media who constitute the invisible government, governing behind the scenes, molding minds, forming tastes and suggesting ideas to the gullible masses, will not relinquish their wealth and power without a fight. They have been utilizing all emergency monetary and fiscal levers, while conducting a data disinformation campaign and utilizing their control of the dying legacy media to keep the masses distracted, entertained and confused.
Peter is a Real Estate Broker at Professional Brokers Group (License No. 023000), covering the greater Short Sale area of Colorado.
Phone: 720-299-7373
Email Us

Please fill out the contact form below if you wish for Peter to contact you.
[contact-form-7 404 "Not Found"]




Helping Short Sale Realtor home owners avoid foreclosure with a short sale.
Peter Janisch specializes in short sales in Short Sale Realtor. I am your
Short Sale Realtor Short Sale Specialist Realtor
and Short Sale Realtor loan modification and distressed property expert. This article and content is for general informational purposes and may not be accurate. This should not be taken as legal advice, technical or tax advice under any circumstance. Seek legal advise and representation in all legal matters.