25 Mar, 2015 by Dave Hodge
The blueprint for the globalist enslavement of America remains unchanged and we Americans are marching directly toward our final demise as a nation. With all the things we write about, and with all of the things that we call attention to, the methodology associated with the subjugation of the people of the United States, can be accurately summarized into a four part plan with the final goal of the destruction of the United States.
1- An economic collapse is unleashed against the people of the United States.
2- The ensuing chaos will lead to the pretext for the imposition of martial law.
3- The martial law phase will result in the imposition of a New World Order which will wipe out all notions of private property and constitutional liberties.
4- World War III will commence and this will culminate in the destruction of America.
This article is introductory in nature, and it will serve to expose the globalist four part agenda to enslave America. Subsequent articles will be offered as part of a multi-part series which will explore each of these four areas in detail along with some potentially life-saving suggestions intended to enhance individual survivability during each of the four phases.
Phase One: Economic Collapse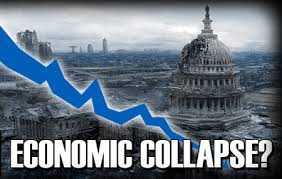 Certainly, our $18 trillion dollar debt, plus our $240 trillion dollar unfunded liabilities (e.g. social security, Medicare) and the one (plus) quadrillion dollar credit swap derivatives debt are all poised to collapse the economy once and for all.
The entire GDP of the planet is under $70 trillion dollars. Therefore, the derivatives debt can never be paid off, not in this century and not even in the 50th century.
The collapse of the economy is a certainty. Certainly the globalists can merely wait for nature to take its course and the three aforementioned debts will naturally crush the economic life out of this country. However, our quasi-governmental agencies and governmental agencies have practiced for the day of collapse and seem to be accelerating the planned demise. Treasury Secretary Jack Lew and the UK's Chancellor of the Exchequer, George Osborne, on November 10, 2014, ran a joint exercise simulating how they would prop up a large bank (e.g. Bank of America) with operations in both countries that has landed itself in trouble. Also taking part in the "bank failure drill" was Federal Reserve Chair Janet Yellen and Bank of England Governor Mark Carney, and the heads of a large number of other regulators, in a meeting hosted by the U.S. Federal Deposit Insurance Corporation.
I am convinced that the globalists will not wait for the nature to take its course and our economy is going to die a "violent death", they will collapse the economy in a manner of their choosing the death of the American economic system will come like a thief in the night and the majority of sheep that inhabit this country, will never know what hit them. If you do not plan properly, every financial asset that you own will soon be gone.
Part two of this series will explore these specific events, and more importantly, some suggestions will be offered to help "soften the landing".
Peter is a Real Estate Broker at Professional Brokers Group (License No. 023000), covering the greater Short Sale area of Colorado.
Phone: 720-299-7373
Email Us

Please fill out the contact form below if you wish for Peter to contact you.
[contact-form-7 404 "Not Found"]




Helping Short Sale Realtor home owners avoid foreclosure with a short sale.
Peter Janisch specializes in short sales in Short Sale Realtor. I am your
Short Sale Realtor Short Sale Specialist Realtor
and Short Sale Realtor loan modification and distressed property expert. This article and content is for general informational purposes and may not be accurate. This should not be taken as legal advice, technical or tax advice under any circumstance. Seek legal advise and representation in all legal matters.