From Doctor Housing Bubble
Feudalism was a set of customs in medieval Europe that setup a society in which relationships were based on holding land in exchange for service and labor.  There is a modern day movement that is silently pushing out the middle class from truly owning real estate.  In my view, there is no coincidence with the contracting US middle class and the massive expansion of "all cash" buyers.  For most working Americans buying a home with all cash is so far removed from economic reality that it is not even an option.  This used to be historically the case.  However, since the Fed adjusted accounting rules and banks were able to control how inventory leaked out into the market, we suddenly have the highest number of cash and investors diving into the real estate market with alternative financing.  People in Nevada, Arizona, and parts of Florida are competing with 50 to 60 percent of investors just to buy a home.  In California the figure has been over 30 percent going back to 2009.  Lower rates are a bigger pull for large investors since the safe trade in bonds or Treasuries is no longer there.  So for this group, those 4 to 5 percent cap rate yields seem more attractive than the nearly non-existent rates on Treasuries.  So we now have a system in place that is crushing the US homeownership rate and is shifting more property into concentrated hands.
First step, control that inventory
There was an interesting trend that started early this year.  Nationwide inventory was starting to increase.  Yet once rates spiked in the summer, that trend completely reversed: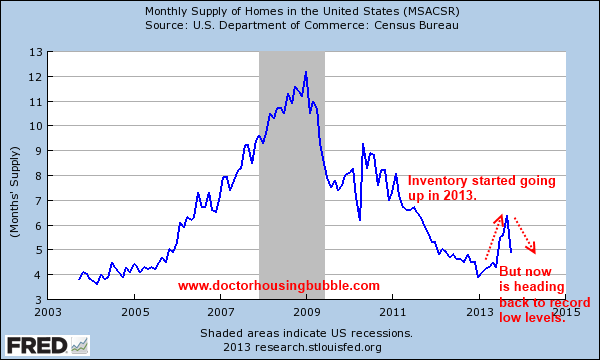 Banks have an entire menu of methods of slowing down inventory that hits the market.  Slowly since 2007, banks have figured out better methods of leaking out inventory.  For example, freezing mark-to-market accounting and all the other programs that allowed for mortgage modifications.  In some cases, the foreclosure process was dragged out 3 to 4 years!  Yet the public face was to help average people but in reality, what has really occurred is a major shift from US household ownership of properties to investors swooping in and picking up properties on the cheap courtesy of modern day banking policy.  In the end 5,000,000 Americans (and counting) still lost their homes via foreclosure and continue to do so.  The massive spike in prices is allowing more people to exit mortgages they simply cannot afford by simply selling.
Yet the drop in inventory is adding pressure to a market where sales are still weak.  What you have is a fully controlled "market" where the Fed is buying up virtually all mortgages and investors instead of focusing on companies or more productive economic activity are becoming large scale landlords.
Prices up and homeownership down
Prices are up yet the homeownership rate in the US continues to fall: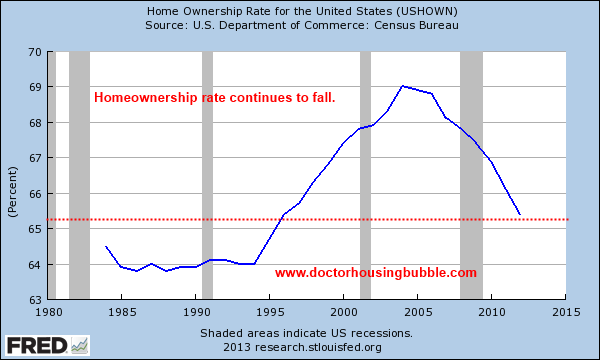 How is this even feasible?  For one, you might have one investor, purchasing a ton of properties:
"(Bloomberg) The market for rental-home securities may grow as large as $900 billion, assuming 15 percent of annual home purchases are conducted by investors and 35 percent of those and existing rental-home owners turn to the market for financing, according to Keefe Bruyette & Woods Inc. Banks have been the main source of financing for new property landlords such as Colony Capital LLC and Blackstone, which has spent $7.5 billion on about 40,000 houses."
Instead of having 40,000 families buying those homes, you have a couple corporate owners.  For nearly half a decade 30 percent of all US single home buying is going to investors.  Historically, this figure was closer to 10 percent.  That is a dramatic shift in the US real estate market.  Did becoming a landlord suddenly become sexy for Wall Street?
With prices up dramatically in the last year including going up close to 30 percent in California, regular families are having a tougher time competing with the small amount of inventory available when investors are battling it out.  What is interesting is also the number of rentals on the market has declined causing rents to spike.  Household incomes are being eaten up either by higher home prices or higher rents as more households shift to renting adding pressure to the low supply of rentals.  Ironically, we are not seeing a flood of these purchases hit the rental inventory market.  Some are trying to flip which might explain the lack of rental inventory but this would add to overall sales inventory which has also fallen.  This isn't a full market so hard to guess what the next move is.
New home sales – make a fuss for nothing
There was a big splash being made about the "massive" jump in new home sales.  You want to see this big jump in context?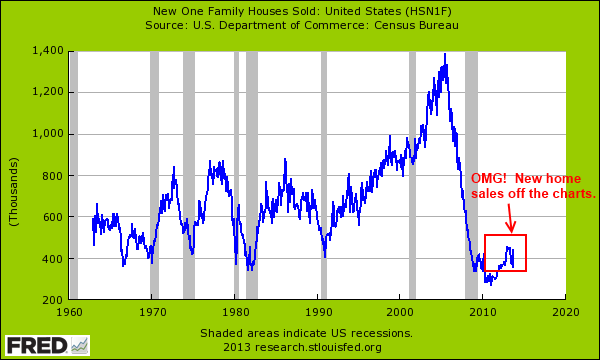 The chart above sums it up.  All the action is happening in the existing home sale market and investors are dominating this game.
Cash buying
It is very clear that one-third of single family home purchases have gone to investors since 2009.  However, some estimates put this figure a bit higher: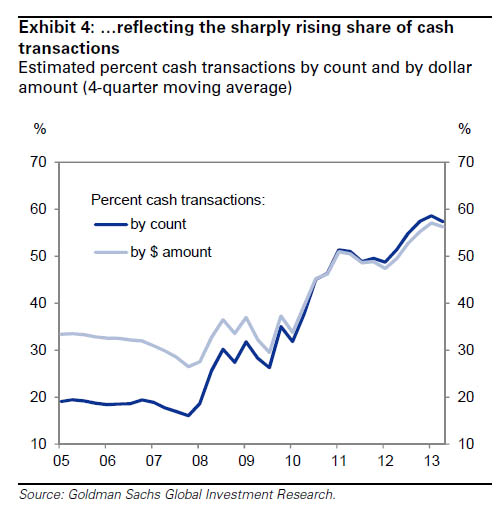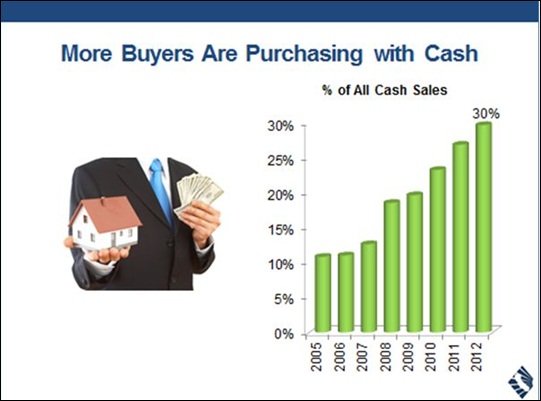 A safe number is one-third.  In markets like Nevada, Arizona, and Florida it is closer to half.  Even in Las Vegas, what regular working family is going to have $100,000 sitting around to make an all-cash offer?  In California where a shack goes for $500,000 the game is even more bizarre.  Yet people have to work and live somewhere.  People for the most part are idle creatures.  In California you have the conundrum of golden real estate handcuffs via Prop 13.  People can sell and move to another state and have a healthy retirement but would rather eat cat food and live in a shack with low tax rates.  It is an interesting trend especially with many baby boomers now seeing their kids coming back home with loads of college debt.
Rental market getting squeezed
The low supply and large investor buying is now causing a drop in the rental vacancy rate: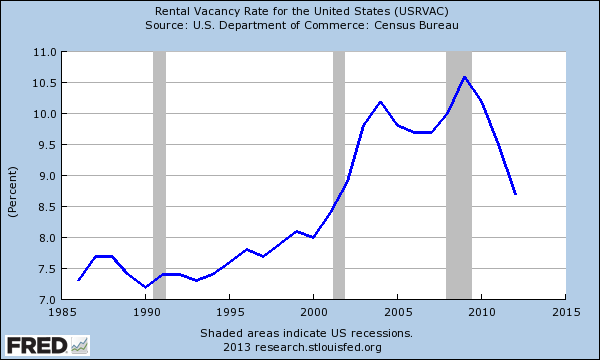 Because of this rents are moving up but in some markets are still below the record highs: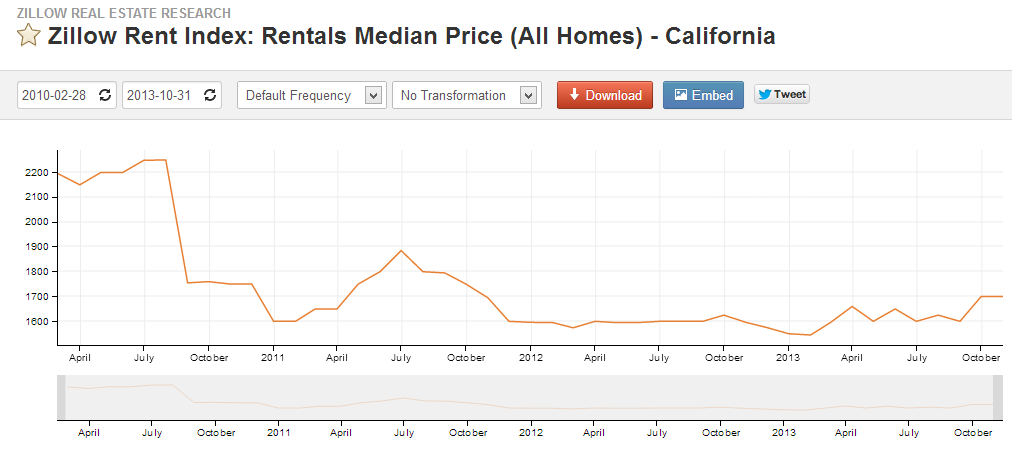 Source:  Quandl, Zillow
However nationwide rents are at an all-time record high: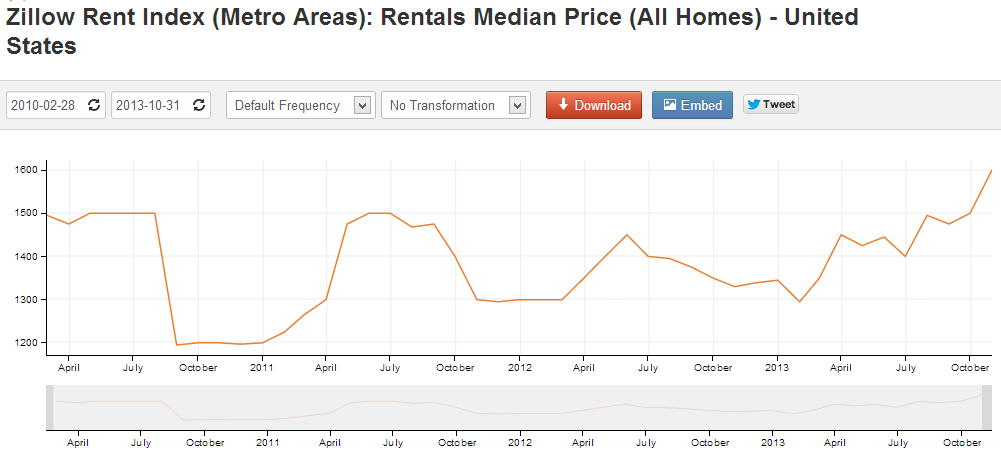 Low inventory is a symptom of market manipulation.  Too many odd incentives and banking shenanigans have created a distorted market.  The Fed now owns 12 percent of the mortgage market and is essentially the only buyer of mortgage backed securities.  Look at all the above data.  Who do you think is really winning here?  Rents are higher.  Home prices are higher.  Yet the menu of good employment opportunities is limited.  Incomes are hardly increasing.  The younger generation is massively in student debt and they are having a tough time finding good work.
What an odd game of real estate we are living in.

Peter is a Real Estate Broker at Professional Brokers Group (License No. 023000), covering the greater Short Sale area of Colorado.
Phone: 720-299-7373
Email Us

Please fill out the contact form below if you wish for Peter to contact you.
[contact-form-7 404 "Not Found"]




Helping Short Sale Realtor home owners avoid foreclosure with a short sale.
Peter Janisch specializes in short sales in Short Sale Realtor. I am your
Short Sale Realtor Short Sale Specialist Realtor
and Short Sale Realtor loan modification and distressed property expert. This article and content is for general informational purposes and may not be accurate. This should not be taken as legal advice, technical or tax advice under any circumstance. Seek legal advise and representation in all legal matters.